Education and Safe Routes to School Director
League of American Bicyclist Cycling Instructor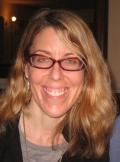 Christina oversees our Safe Routes to School Program and staff and provides Education & Encouragement technical support to schools across Sonoma County. Christina, a former teacher, began her journey with Safe Routes to School before she started working for SCBC, when her then 4th grade son begged her to start letting him walk to school on International Walk & Roll to School Day 2007. Soon after, he began bicycling to school. He was a big part of Christina's inspiration to teach all students and families about the benefits of walking and bicycling safely to school and in their neighborhoods – and helping to facilitate improved conditions for walking and bicycling to Sonoma County Schools.
updated 06/01/2023