Safe Routes to School Educator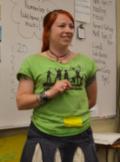 As a Safe Routes to School Program Instructor, Danielle travels to schools all around Sonoma County to teach pedestrian and bike safety to elementary-age (and occasionally, middle school) students. Danielle also provides instruction at bicycle rodeos, where kids ride supervised on various bicycle courses designed to teach proper bike safety and handling. You may also see Danielle working occasional school-related and/or community outreach events.
Danielle lives in Santa Rosa and is married with an 11 year old daughter. Her family lives close to downtown and commutes by bike or foot to a variety of places. Danielle is an avid pedestrian/bicycle commuter who walked to school all 13 years as a grade school student, and for most of her college years. This proud tradition continues with Danielle's daughter who has walked or biked to school since Kindergarten.