by Cherie Barnett
I never know what experiences or events I may encounter when I am on my bicycle.
I believe there is an invisible force and power that binds cyclists together. That force and power has created some extraordinary moments in my two-wheel life. One such moment was meeting Tyrone (Ty) Arnold and hearing his incredible bike story of pure grit.
Meeting Ty and hearing his compelling story would have never happened if it wasn't for my bicycle.
Fixing a flat, finding a friend
The day started like any other day, getting my road bike tuned up to head out.  As I went to top off my tires, the valve stem of my Presta tube unscrewed itself and flew across my living room. I didn't have a spare at the house, so I rode my cargo bike into work with the disabled tire and pivoted my original lunch plans from getting a fast trail ride in on my road bike to instead walking over to Trek Santa Rosa and buying some replacement tubes. On my walk back with my fixed tire and two spare tubes, I decided to grab lunch at Brew.
With the repaired tire on the table next to my lunch, I hear "Is that tire French or Italian?"  This is my first introduction to Ty.
"I honestly don't know, but it's going to take me on a one day 100-mile event next year."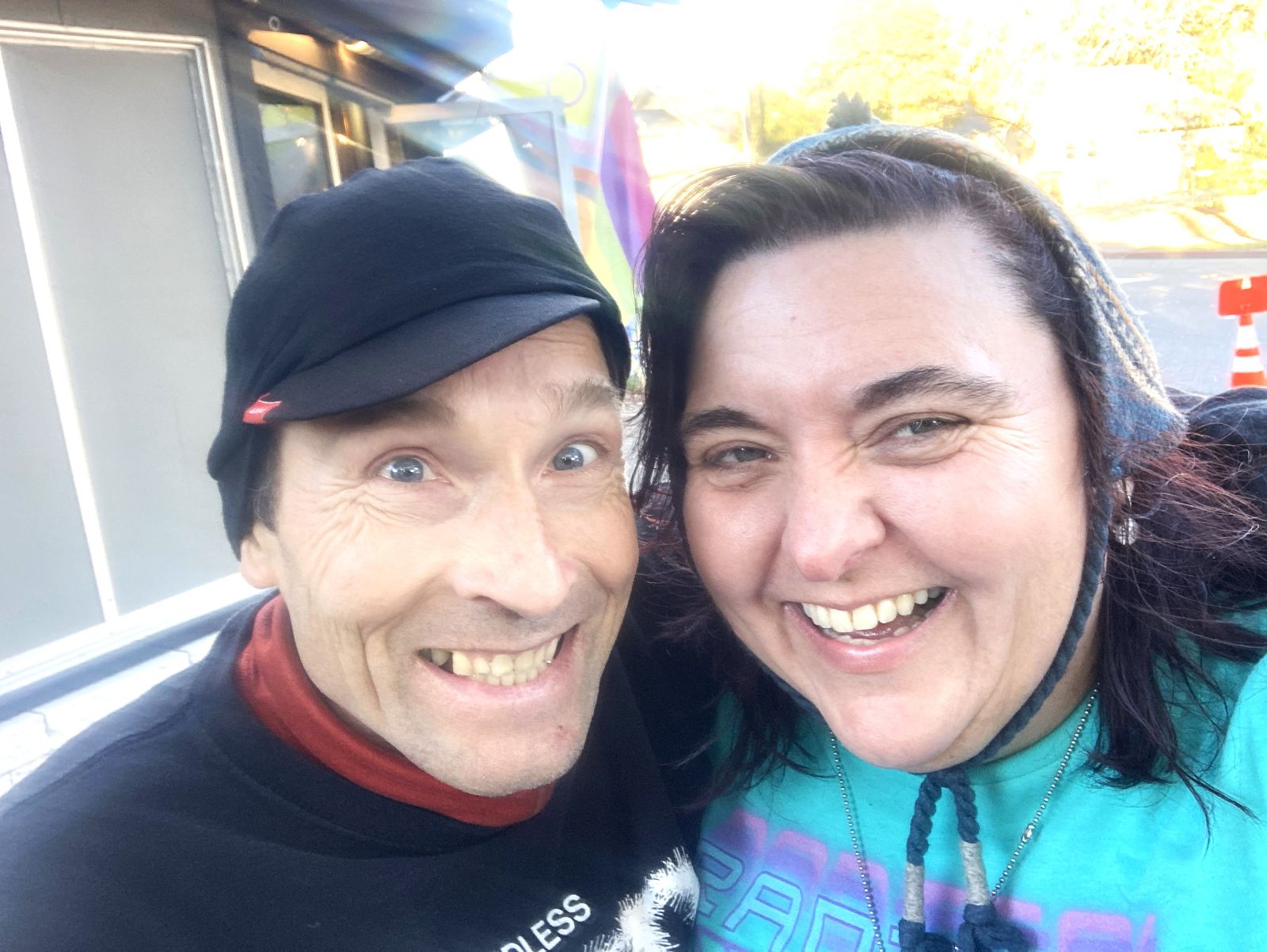 That single inquiry about the ancestry of my tire resulted in a both instant connection towards a shared passion for cycling and an impromptu lunch with a new friend. What would have taken six months of hearing each other's story was accelerated in the course of an afternoon lunch. You might ask why? Everyday is a gift to Ty and for him genuine connection and moments within the moments are everything to him.  Ty was diagnosed with multiple myeloma of undetermined significance in 2016. That same summer he completed the second one of the three "Terrible Two's" he participated in. At that time, he stood 5'11" inches tall and was ranked as a Category 4 level competitive rider.
Ty the Competitive Cyclist
Ty began his cycling journey in 1988 with a bike tour across Idaho using a rack and some skinny gear bags. From that experience he helped start a bike team at the University of Idaho while completing a degree in chemistry.
In 1995, he made his way to Sonoma County after completing his thesis. Ty fell in love with the beauty of County along with cycling and competing here. Some of his early memories in Sonoma County include him doing crits and sprints and participating in the Cool Mountain Bike Race. We shared a pure 90's nostalgic moment when he stated Jolt Cola was one of his team sponsors.
As with many competitive cyclists, Ty faced various setbacks from injuries. He reflected on competing in the Gianni "Ring of Fire" and having an out of body experience going from a climb to a fast descent. At that time, he was focused on stats and pushing his body beyond its limits to make a stronger finish.
In 1999 he had to have his knee rebuilt. His career and starting a family took him away from competitive cycling for a time but it was his friend Chris Wells that convinced him to come back to competing in the Grasshopper series.
"Coming back that time, I found myself having fun again."
In 2014, Ty decided to go for his first "Terrible Two", a broken spoke resulted in him not completing the 200-mile ride, but he enjoyed the event so much he would return the next two years to claim his "I did it!" tee-shirt.
I never gave up on the bike
Since his diagnosis in 2016, Ty's spine has collapsed 9 inches taking him form 5 feet 11 inches to 5 feet 2 inches. Ty explained when your sternum breaks you are unable to use your shoulders. As he has battled cancer, Ty has experienced kidney failure (and the miracle of recovery), spent months in the hospital, or has been bed ridden and isolated. He's had to use a wheelchair, a walker, and lives with the pain of fractures to his spine, sternum, hips, and shoulders as his body compresses. Each time cancer has reduced his mobility, he's found ways to adapt.  He uses his bikes as a motivation to regain his strength and to overcome the physical disabilities that are brought on by cancer.
"We have the power to change our feelings about disappointment," Ty says.
"Tender mercy" on a bike
Ty shared with me how his bike provides the "tender mercy" he relies on to go out riding for his daily trips.
"On the days when my legs are shot [but] my upper back isn't hurting. [OR] When my legs are in good shape [and] my shoulders and upper back are often giving me pain. My bike [is my tender mercy it] helps me adapt my pain management and gives me the freedom to be out and riding and reminding myself that I'm still alive."
Every time cancer sets Ty back, he reassesses, adapts his bike, and keeps rolling. When the cancer stopped his ability to swivel his hips over the frame, he modified his bike to climb on from the seat. His front handlebars are BMX style, and his frame and wheels are adapted from other bike styles.
In May of this year, Ty was at a Bauhaus concert in a wheelchair. Through the summer he fought to regain his mobility transitioning from being isolated and bed ridden, to a wheelchair, to a walker and finally on October 14th he made it back on his bike. He's adapting every day because just like in competitive cycling he's facing hills to climb and obstacles to overcome.
According to Ty "It's just another boulder."
Cancer is the ultimate endurance event
Ty has been through multiple treatments, dialysis, PET scans, labs, more labs, more treatments and facing his own mortality more times than he ever thought possible. All of what he has endured, it's his training philosophy that he embraces that helps him through everything his body endures.
"I learned to train with the goal of looking for relief on long endurance events. My goal became to feel good when I was done."
His outlook on his life and where he wants his remaining time to be spent is in three places: creating memories with his kids, seeing live music and being out on his bike.
"It's by exercising that I get stronger. Bicycling is building my strength."
Being a dad
I saw Ty's eyes well up with tears as he shared memories he's created with his two children. Ty's kids are 14 and 11 years old. They have seen their dad fight a terminal diagnosis nearly half of their lives. He makes it a priority to take them out on biking adventures.  For instance, riding across the Golden Gate Bridge because he wants them to experience the joy he's known from biking.
In talking with Ty, we shared collective tears because of the knowledge he has of not being there for his children one day. My mother died from cancer when I was 29 years old, and her biggest anguish was not the breakthrough pain she was living with from cancer destroying her body. The pain she shared with me was knowing she was not going to be here to see the milestones I had yet to experience.
When I first shared my upcoming training experience with Ty I was honestly daunted by the idea of what the next six months of my life was going to be. I know from experience I am heading to early mornings and hill climbs and getting my body re-conditioned for a full century ride. It was through Ty's bike story my outlook changed. Having a challenge in front of me is a gift as are the days I get to experience training for it. The friendships that happen, the stories, and memories you get to hold onto are what ultimately carry us through life. Ty reminds me of what really matters and having his friendship and inspiring story is a gift I'm going to carry with me on every climb.
Ty is a proud father and cyclist who's on an endurance race that he doesn't want to see end. He's approaching each day with a philosophy of looking for moments of relief and as much as it hurts, and taxes his abilities, he wants more mountains to climb even if that means no relief in sight.
"The day I can have on my bike is always better."